Configure Preferences
This tab of the Configure dialog specifies display preferences for YAAC.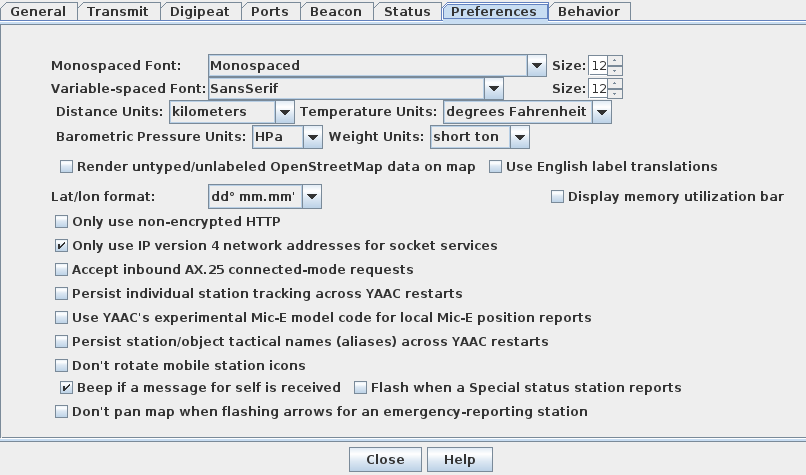 The options that can be changed here are:
The fonts that will be used for tabular displays and where a monospaced font would align the text more readably.
The units of distance (and speed) that will be used in the various tables and displays in the application.
The units of temperature, pressure, and weight that will be used in the various tables and displays in the application.
Specify whether unlabeled and/or untyped OpenStreetMap data should be rendered at close zoom levels. Typically, these are building outlines with no identification of the purpose or name of the building. To render such data, the map tiles must be downloaded after enabling this option, so as to download the additional map data; if this option is not selected, the additional map data will not be downloaded and old copies of the data will be deleted.
Specify whether OpenStreetMap labels should be displayed in English if the default language of the label is some other language and an English translation is available.
Choose the format for displaying latitude and longitude values.
Choose whether the memory usage monitor should be displayed on the toolbar of the map window (not seen by default).
Specify whether secure encrypted HTTP should be used for web accesses by YAAC or only non-encrypted HTTP. Selecting non-encrypted HTTP should be done if YAAC's only connection to the Internet is via an Amateur Radio TCP/IP network that prohibits encrypted traffic (to comply with regulations). YAAC accesses the following data sources using HTTP and/or HTTPS: The sources that are not supported for unencrypted HTTP will not work if only non-encrypted HTTP is selected, and an appropriate error message will be displayed if you attempt to access them in this mode.
Specify whether YAAC will accept inbound AX.25 connected-mode requests for old-style packet "chat" sessions addressed to the local station. By default, since YAAC is primarily an APRS program, it will reject inbound connected-mode requests, but this can be changed to work similarly to how YAAC can initiate outbound connected-mode sessions to a packet BBS if any RF ports are configured for "raw AX.25".