Configure Transmit
This tab of the Configure dialog specifies the general parameters controlling message transmission.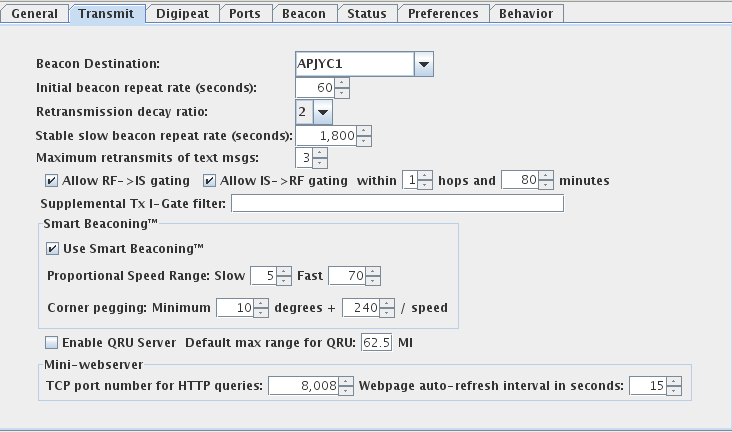 The options that can be changed here are:
The maximum age of messages that will be seen in the GUI. Anything older than the specified time interval (relative to current time) will be hidden on the map or grayed out in the sniffer window.
The callsign or alias used as the destination for local beacon transmissions (when sending all locally originated packets except for Mic-E encoding position messages). Referred to in the APRS protocol documentation as the "tocall", different values are assigned to different makes and models of APRS hardware and software, so other stations on the APRS network can identify what type of station is sending them packets. Although you can enter any up-to-6-character string here (non-standard values here identify an alternate network [not necessarily an APRS network], or "altnet"), YAAC supports three standard values:

APJYC1, the specific value identifying the YAAC software. This is the YAAC software default.
APRS, the generic value saying the sending station is APRS, but no further information about the station type or capabilities.
BEACON, the older connected-mode packet destination used for unconnected multicasting of the station's beacon packet.

The full list of assigned "tocalls" is available at http://aprs.org/aprs11/tocalls.txt.
The initial (fast) beaconing rate in seconds between beacons.
The rate at which beaconing is slowed down when there are no data changes. Either doubling or tripling the transmission interval is supported.
The slowest rate (maximum interval between transmissions) that local beacons can be sent at, in seconds between transmissions.
The maximum number of times an APRS text message will be retransmitted if it is not acknowledged by the addressed remote station.
Whether I-Gating from RF to the Internet (RX-IGate) and/or I-Gating from the Internet to RF (TX-IGate) is allowed (should the configuration have both RF and APRS-IS ports open and enabled for transmission), and the maximum number of digipeater hops acceptable for a local station to be I-gated (also configures the digipeat alias for TX-IGated messages).
If Tx I-Gating is enabled, a filter specifying what (if any) supplemental Internet traffic should be forwarded to local RF. Note that this cannot suppress the minimum required traffic for a Tx I-Gate according to the APRS-IS specifications, nor can it enable the prohibited traffic. It also will not alter any filters specified on APRS-IS ports, so you can't transmit to RF any traffic that you don't actually receive from the APRS-IS network. Be careful in the use of this filter; you can easily overload the local RF channel with traffic by the careless use of this filter. This supplemental filter only supports a subset of the defined APRS-IS filters:

Parameter
Filter Type
Description
r/lat/lon/dist
Range filter
Pass posits and objects within dist km from lat/lon.
lat and lon are signed decimal degrees, i.e. negative for West/South and positive for East/North.
p/aa/bb/cc...
Prefix filter
Pass traffic with fromCall that starts with aa or bb or cc. Same as b/aa*/bb*/cc*
b/call1/call2...
Buddy list filter
Pass all traffic from exact call: call1, call2, ... (* wild card allowed)
o/obj1/obj2...
Object filter
Pass all objects with the exact name of obj1, obj2, ... (* wild card allowed) (spaces not allowed)

(| => / and ~ => *)

t/poimqstunw
Type filter
Pass all traffic based on packet type.
One or more types can be defined at the same time, t/otq is a valid definition.

p = Position packets
o = Objects
i = Items
m = Message
q = Query
s = Status
t = Telemetry
u = User-defined
n = NWS format messages and objects
w = Weather

s/pri/alt/over
Symbol filter
pri = symbols in primary table

(| => /)


alt = symbols in alternate table

(| => /)


over = overlay character (case sensitive)
For example:

| | |
| --- | --- |
| s/-> | This will pass all House and Car symbols (primary table) |
| s//# | This will pass all Digi with or without overlay |
| s//#/T | This will pass all Digi with overlay of capital "T" |

g/call1/call1/...
Group Message filter
This filter passes all text message packets with the specified callsign-SSID(s) as the addressee of the message. Supports * wildcard.
u/unproto1/unproto2/...
Unproto filter
This filter passes all packets with the specified destination callsign-SSID(s) (also known as the To call or unproto call). Supports * wildcard.
m/dist
My Range filter
This is the same as the range filter except that the center is defined as the current position of this YAAC station. This will change dynamically if this is a mobile station using GPS coordinates.
f/call/dist
Friend Range filter
This is the same as the range filter except that the center is defined as the current known position of call. If the friend station or object moves, future filtering will be based on the new position. If the station is purged from the YAAC station records (either manually or due to inactivity timeout), this filter will cease to affect traffic, but will start working again as soon as the friend station comes on the air again and transmits its position.

Any filter token can be prefixed with a '+' to specify this condition must be met to forward the packet (normally, matching any one of the filter tokens is sufficient to approve the packet). Similarly, a '-' can prefix a filter token to indicate matches to this token must not be forwarded (regardless of any other matches).
Whether or not Smart Beaconing should be used when the station is moving (according to received GPS data).
The slowest and fastest rates of travel of the mobile station that will be used to interpolate the transmission rate for beacons.
The minimum turn angle and scaling factor (turn slope) for how sensitive YAAC should be to course turning regarding speeding up beacon transmission.
Whether or not to respond to QRU requests heard by this station. Note that this station will not respond unless:

this station has QRU objects for the specified category (or for any category if the requesting station is sending an INFO request for a list of supported groups).
the requesting station is in range (see the next Transmit control).

What maximum distance the requesting station can be from this station where this station will still send QRU responses. This distance will be in the units specified on the Preferences tab of the configuration dialog.
The port number the internal mini-webserver will listen on for browser requests. External browsers can view some of the YAAC views by using the URL http://ipaddressofYAACsystem:portnumber. Note that port number 0 turns off the mini-webserver, and ports between 1 and 1023 may not work on Linux, FreeBSD, or other Unix-dialect platforms, as they are reserved for privileged network services.
The interval in seconds between automatic refreshs of the pages viewed on YAAC's mini-webserver. This keeps the views on the other browsers up-to-date as new real-time data is received by YAAC.