Configure Demonstration
This tab of the Configure dialog specifies what to present for an automated demonstration of YAAC.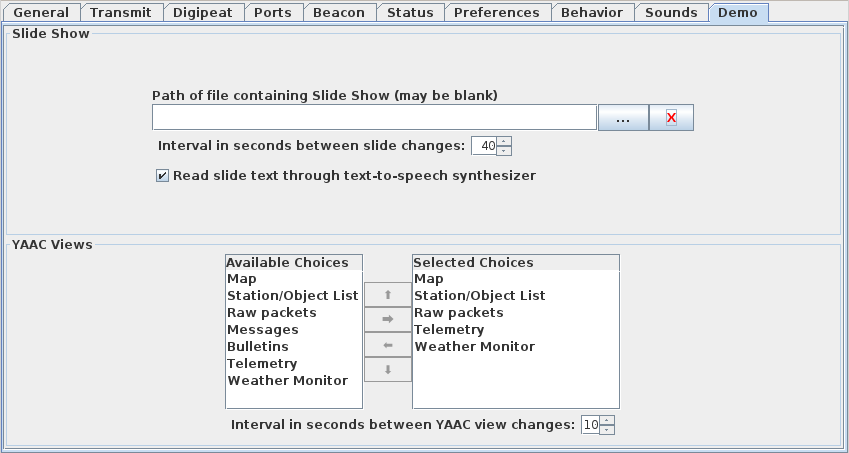 There are two aspects of the demonstration:
a PowerPoint slide show created externally that is automatically stepped through at a configurable rate.
a selection of YAAC views that are cycled through at an independently-configurable rate.
The options for the slide show are:
The PowerPoint (.ppt or .pptx format) that should be displayed, or blank to indicate that a slide show should not be presented. Note that the Apache POI library does not completely support all features of Microsoft PowerPoint, so fancy features should not be used. Also note that automatic font-size reductions (due to too much text on a slide) are not implemented in the POI renderer, so over-full slides will have their text fall off the bottom of the demonstration window. Use the "..." button to browse for a new file. Use the X button to stop presenting a slide show.
The period of time between slide changes in seconds.
If the sounds plugin is also installed, whether YAAC should read any "notes" present on each slide through the sounds plugin's text-to-speech synthesizer API. Note that for this to work, the sounds plugin must be configured with a text-to-speech synthesizer application.
The options for the YAAC views are:
The set of YAAC views that are to be presented, in the order of presentation. Note that all of these views use the current filter settings, pan/zoom, configuration, etc., of the normal version of these views. The currently available choices are:
the time interval between view changes in seconds. If you want one particular view to stay up longer, add it to the list twice in a row. However if you pan or zoom a doubled map view, the change will only apply to the instance you changed.